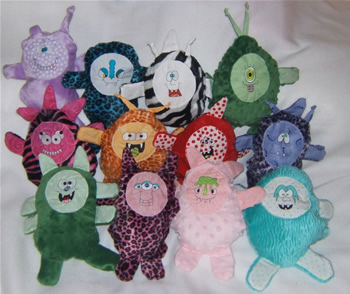 We used a variety of fun fabrics (mostly from Joann's) for our monsters and used cottons for the face area. This way the body could be a dotted Minkee or a fuzzy or furry fabric.
This is a project set that you can do for and/or with kids. We did the embroidery and the sewing but got the kids to help choose the colors and how they were made. There are 12 designs in this set and they fit any 4x4 or larger hoop. The finished toy is approximately 10" tall (not counting extra horms or feet)!
The fun part here is deciding whether to have horns or antennas (or both) and how many. You can also have more than two arms or two legs! After all, these are monsters. This is a great way to get kids to use their imaginations. You can make these as frightful or delighful as you like!
Complete instructions and patterns are included with this set.