This charming set is an entire project perfect for children who want to help or for quickly making items for a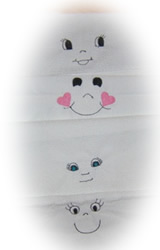 craft fair. The sky is the limit here.

Included are 12 Angel faces that range from crafty to more realistic. Each of the faces is included in two sizes so you can make a wide range of Angels in a variety of sizes. The larger size
The smaller faces can be used with Tootsie Roll Pops to make Lollipop Angels.
All of these faces sew out in under 2 minutes! It's the kind of project that children of all ages can help make. Samantha has been making these for the last few days now. Yes, that is one of her skate dresses - she loves to wear them around the house!
All you need are styrofoam balls, wire (floral, pipe cleaners, coat hangers, whatever), bits of fabric or ribbons for decorations and your imagination! You can use a glue stick or sew decorations on - whatever is appropriate for your "helpers".
The instructions include a variety of options for finishing the angels. This set comes with complete instructions for making these decorations. They are very appealing when displayed on a table at a craft show.