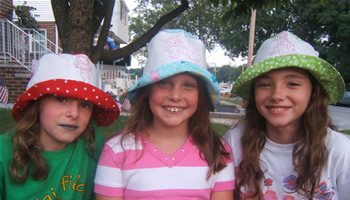 Pictured here in the middle is our Sammie who is 8. On her left is her cousin Ali (who just ate a blue popsicle) who is also 8. On her right is her friend Allie who is 9. Yes, it can sometimes be very confusing at our house!
This special set contains complete instructions including photos and the pattern for these easy Summer hats along with 12 different charming mermaid designs. These hats fit children ages 6 to 10. These are not finished in the hoop so any size embroidery machine can make these. The hats take only about 10 minutes to assemble.
These hats have been designed to accommodate any 4x4 design!