Special Sets
Mylar Girl Gnomes - Valentines
This set has 12 Mylar Girl Gnomes all ready for Valentines Day and all optimized for use with mylar.
We used our sew-outs to make gift pillows - small pillows with a pocket on the front to hold a card, some candy or somethings really special for your valentine.The complete instructions for making these pillows with 4x4 size designs is included with the set! These sew-out quickly and the pillows are super easy to make!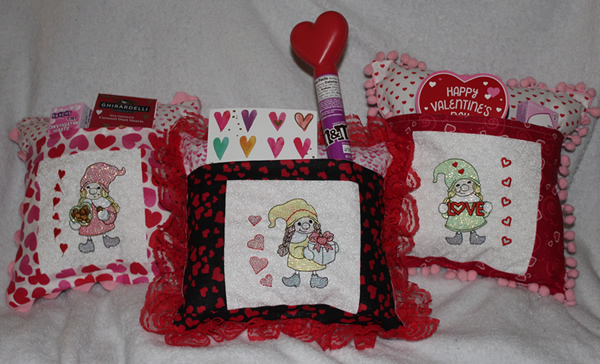 Remember, if you use the mylar we recommend, it is washable and dryable in machines. I even iron on it for quilts or making garments so they make great pot holders!
This wonderful clipart is from Clipartopolis.
If you haven't used mylar before, be sure to check the information at this link:
To see stitch counts and design sizes:
4x4 Hoop 5x7 Hoop