This set has 12 designs of flowers and birds, all optimized for use with mylar. We used ours to make a welcome wall hanging for our front door.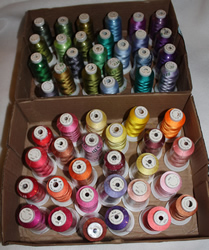 This set is entirely the fault of Suz from BFC-Creations.
She just has a wonderful sale on embroidery thread and when I received my order, all I could think about was flowers!!!!
Look at these gorgeous colors!!! Click the link above to see all the colors that are available.
The instructions for our wall hanging are included with the set
If you haven't used mylar before, be sure to check the information at this link:
Remember, if you use the mylar we recommend, it is washable and dryable in machines. I even iron on it for quilts or making garments!