This set has 12 little kids playing dress up and the designs have been digitized specifically for use with mylar to add sparkle to your project. These "costumes" are some of the favorites from Star Wars.
You can choose between 4x4 or 5x7 size.
We used Blue Opal Mylar for each of these designs - it reflects back the color of the thread that you use. If you haven't used mylar before, be sure to check the information at this link:
If you use the mylar that we recommend, your projects can be machine washed and machine dried!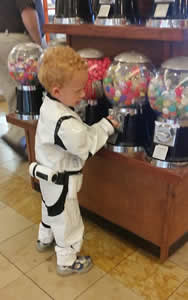 This is Dennis, our personal "expert" on Star Wars costumes. This is what he likes to wear to the mall.
And this is Dennis taking a nap in his car seat on the way home, the way any good storm trooper would!