One of the reasons we like vending at quilt and sewing shows is that we get to talk to customers to find out what kind of designs they would like to have. One request that has come up a number of times is for Koalas.
This set has 12 sweet little Koala bears - perfect for a small quilt. These would also be darling on bibs, blankets or other baby projects. You can choose between the 4x4 or the 5x7 size.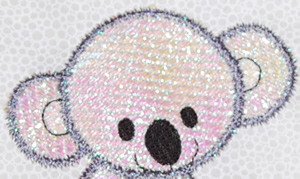 These designs also have a "fuzzy" outline to give the Koalas an even more fun look.
This is built into each design and doesn't require you to do anything extra!