This is a project set that allows you to become the designer! This set has 5 different applique leaves (each in two sizes) along with an applique pumpkin and a small filled acorn.
This set includes a 17 page instruction booklet that tells you how to make this wonderful cardigan - a great gift idea! You start with a sweatshirt and design the "falling leaves" any way you like. You can even add designs to the back of the garment.
We used Batiks for our leaves and an autumn leaves fabric for the trim.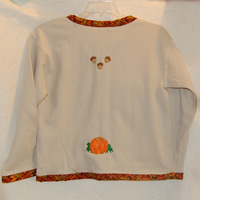 We put the acorns and the pumpkin on the back! You could continue the them of falling leaves if you prefer!