With all the many pillows that we have to offer, we realized that we didn't have any snowman pillows!
This set uses just the 4x4 hoop to make the faces and includes the instructions and patterns for two pillow sizes: one about 10 inches and the other about 16 inches (including the fringe).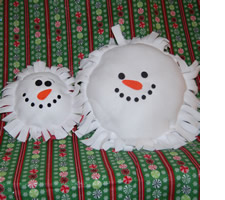 We used white fleece for our faces and various Christmas and print fleece on the back.
These are not finished in the hoop so any size machine can make these. There are instructions for 2 finishes: one sewn on the sewing machine and the other is a no-sew finish that little helpers can do!