Kids get a kick out of monsters and these little guys are fun and friendly. There are 12 very non-scary monsters in this set and all are optimized for use with mylar.
We had a lot of fun using variegated thread for these and that makes the monsters even more fun!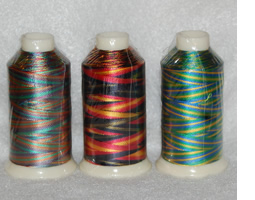 We used Marathon Thread for our samples. They have some wonderful color combinations, including these shown here, that make really terrific monsters. Our instructions give you the exact numbers for the samples we did.
You can choose between 4x4 or 5x7 size.
If you haven't used mylar before, be sure to check out all the information here (including where to buy it):