This set is for all crafters and gifters. These purses are completely quilted, embroidered and then assembled all in the hoop - including the zipper!. This set includes all the instructions to make these lovely projects.
As we were working through these, we realized that you might like to make some with just the quilting so a plain set is included here too. We also used white brocade with the interlaced hearts design to make a bridal gift.
These designs are for the 5 x 7 or 6 x 10 hoop. If you are looking for a good source for zippers, please check these links to Wawak.com: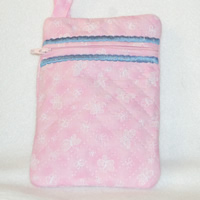 These are completely finished in the hoop including sewing in the zipper.
This is the back of the purse.
There are 6 embroidered purses along with the plain purse included in this set.
Please check the actual size of the designs below - be sure your hoop is the correct size before purchasing!